mardi 30 mars 2010
Publié par

Pat de Verre
à 3/30/2010 06:09:00 PM
1 commentaire:

samedi 27 mars 2010
"Corfou island Roses"
This necklace is inspired by a Nana Mouskouri's song which was broadcasted on the radio while I did this pendant. The name was logically found.
"Roses de Corfou"
Collier est inspiré par une chanson de Nana Mouskouri qui passait à la radio pendant que je montais ce pendentif. Le nom de ce collier s'est imposé...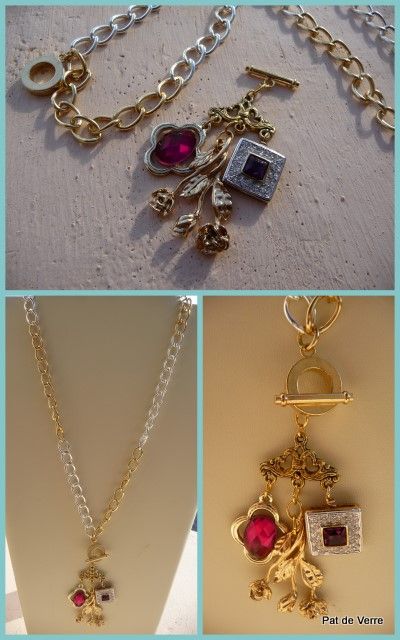 Publié par

Pat de Verre
à 3/27/2010 03:52:00 PM
Aucun commentaire:

My first long necklace "upcycling chic" reminds me the operetta
" The Merry Widow " of Franz Léhar.
Small black lace knot, flower cut from a CB Gold, Murano glass bead gold foiled, crystal of Swarovski, Czech crystal, mother-of-pearl, various "vintage" elements.
Mon premier sautoir "récup chic" me fait penser à l'opérette "La Veuve Joyeuse" de Franz Léhar.
Petit noeud en dentelle noire, fleur découpée dans une CB Gold, perle de Murano à la feuille d'or, cristal de Swarovski, cristal de Bohême, nacre, différents éléments "vintage".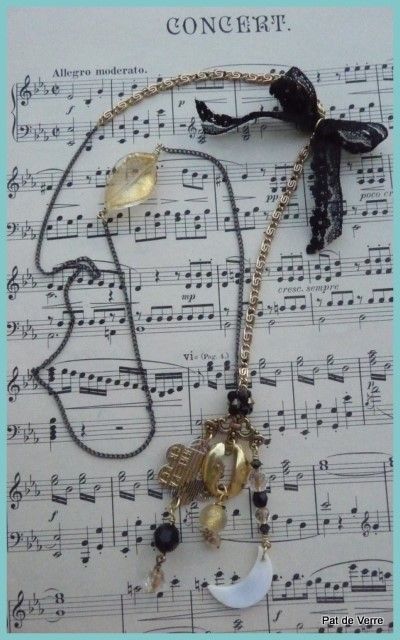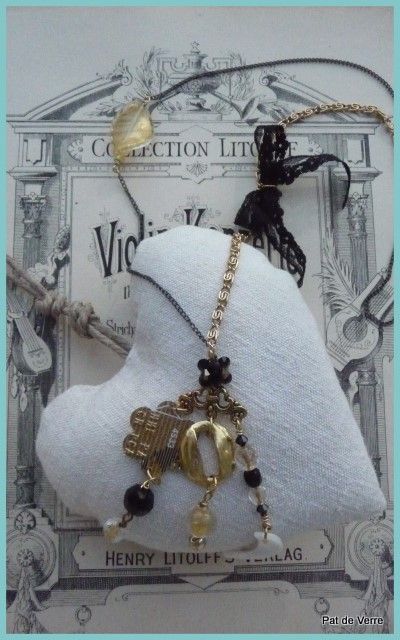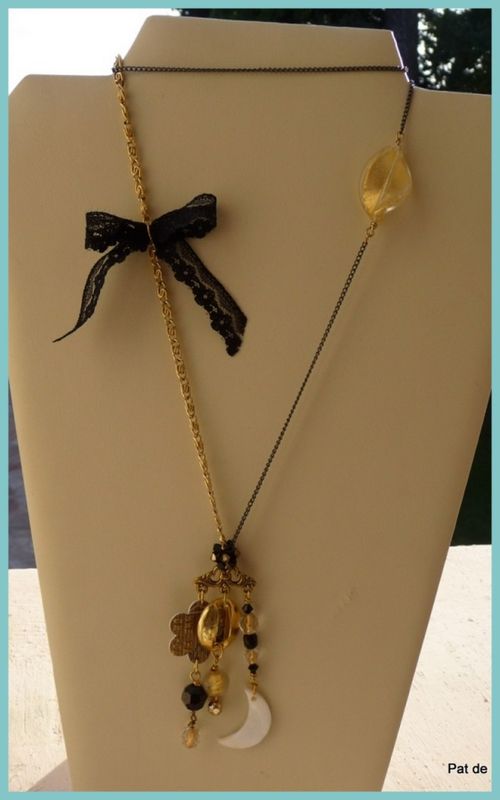 Publié par

Pat de Verre
à 3/27/2010 02:37:00 PM
Aucun commentaire:

lundi 15 mars 2010
My Heart belongs to Daddy

Do you remember the glamorous Marilyn's voice whispering these words:
MY HEART BELONGS TO DADDY
My name is.. Lolita
And... I'm not supposed to.. play with boys!
Mon coeur est à Papa
You know.. le propriétaire...
...If I invite a boy some night
To dine on my fine food and haddie
I just adore his asking for more
But my heart belongs to Daddy !.

This song inspired me for this new design perfect to declare your flame to your Valentine.
Woven bead after bead in peyote stitch, more than 2500 Japanese Miyuki Delica beads are needed to do this intricate cuff.
The closure is a recycled red button of my personal collection with a beaded loop.
Mon coeur est à Papa. Vous vous souvenez certainement de Marylin, susurrant les paroles de cette chanson.
Elle a été ma source d'inspiration pour cette manchette, parfaite pour déclarer votre flamme à votre "Valentine".
Dessin personnel, tissé perle après perle en point de peyotl avec plus de 2500 microscopiques perles japonaises de chez Miyuki. Le fermoir est fait d'un bouton recyclé de ma collection personnelle et d'une boucle ajustable à la demande.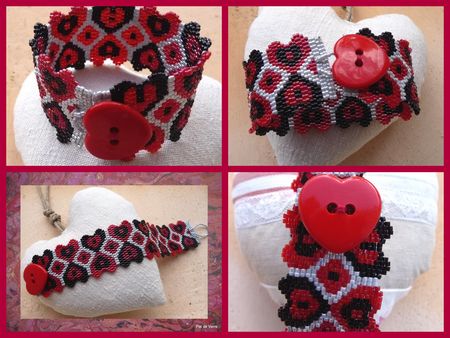 Publié par

Pat de Verre
à 3/15/2010 11:41:00 PM
3 commentaires: